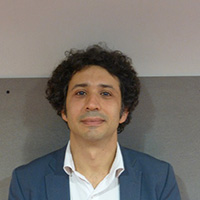 Giorgio Francesco Arcodia was born in Milan and studied in Bologna, Pavia, Beijing and Taipei. He is associate professor of Linguistics at the University of Milano-Bicocca, where he teaches General Linguistics and Introduction to Linguistics.
He specialises in Chinese linguistics, word formation and linguistic typology; some of his other research interests include pidgins, creoles, and sign languages. His research focuses on the typology of the languages of East and Southeast Asia, especially on the formal expression of grammatical categories and word formation. His doctoral thesis (Lexical Derivation in Mandarin Chinese) was published in Taipei by Crane Publishing (2012), and he recently published a textbook on Chinese linguistics (Bologna, Pàtron, 2016, with B. Basciano), which is also being translated into English.
Some of his most representative works include: Grammaticalisation with coevolution of form and meaning in East Asia? Evidence from Sinitic ("Language Sciences", 2013), Differential object marking and identifiability of the referent: a study of Mandarin Chinese ("Linguistics", 2014, with G. Iemmolo) and Areal perspectives on total reduplication of verbs in Sinitic ("Studies in Language", 2015, with B. Basciano and C. Melloni).