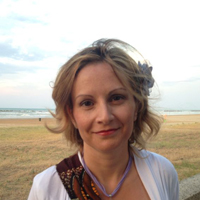 Alessandra Checchetto was a PhD student in "Psychology, Linguistics, and Cognitive Neuroscience" under the supervision of Professor Carlo Cecchetto. She is involved in the SIGN-HUB project (2016-2020): "Preserving, researching and fostering the linguistic, historical and cultural heritage of European Deaf signing communities with an integral resource."
She received her MA degree with full marks in Anthropological and Ethnological Sciences, with a thesis on tactile LIS, the variety of LIS used by Deafblind signing population.
Since 1998 she has been working as interpreter of LIS and tactile LIS in several settings, both public and private. She is a member of Anios, an association of Italian sign language interpreters. She has experience in the training field, where she deals with training and updating courses for LIS interpreters.
From 2011 to 2016 she was contract professor of tactile LIS and Deaf culture at the Ca' Foscari University of Venice.