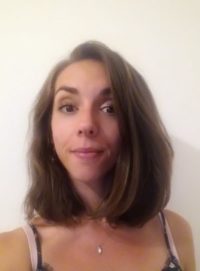 Mathilde Chailleux was a PhD student in « PSychology, Linguistics, and Cognitive Neuroscience », under the supervision of Maria Teresa Guasti, Fabrizio Arosio and Francesca Foppolo. Her PhD was also part of a European project called MultiMind (https://www.multilingualmind.eu/).
She studied Linguistics and Neuroscience at the University of Tours (France), with a main focus on language acquisition and language disorders. In parallel of her studies, She started to work on projects addressing the question of the identification of language disorders such as Specific Language Impairment in bilingual children.
In 2018 she entered the MultiMind project that studies various aspects of multilingualism. As «Early Stage Researcher» 10, she worked on the identification of dyslexia in bilingual children. She also investigated the link between reading abilities and prediction abilities of both linguistic and rhythmic stimuli by the mean of eye-tracking methods.