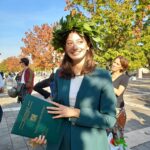 Marta Curreri is a PhD student in Psychology, Linguistics and Cognitive Neuroscience under Prof. Fabrizio Arosio.
She graduated in Clinical Psychology and Neuropsychology In the Life Cycle at the University of Milano Bicocca. For her experimental thesis, she joined a team of PhD students from the i3lab (Innovative, Interactive Interfaces Laboratory, Milano Politecnico) in the development of a new assessment tool for language disorders. Her thesis focused on the use of such tools in a population of bilingual children, supervised by Professor Fabrizio Arosio.
Her doctoral research is dedicated to the link between rhythmic and linguistic skills in children with developmental dyslexia to build a new intervention tool for bilingual children who show atypical language development.