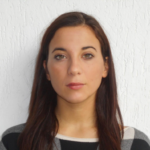 Lucilla Guidotti is a PhD student in "Psychology, Linguistics and Cognitive Neuroscience" under the supervision of Prof. Francesca Panzeri and Prof. Francesca Foppolo.
After graduating in Speech Therapy at the University of Milan, while she was working at the Ospedale Maggiore della Carità in Novara as Speech Language Pathologist, she graduated in Cognitive Sciences and Decision-making Processes at the same university.
Her research fields concern deafness, autism and speech disorders in general, both in development and in adults.