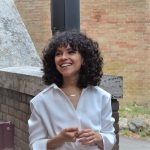 Letizia Raminelli è dottoranda di ricerca in Psicologia, Linguistica e Neuroscienze Cognitive presso l'Università di Milano-Bicocca sotto la supervisione della Prof.ssa Maria Teresa Guasti.
Letizia si è laureata in "Language and Mind: Linguistics and Cognitive Studies" presso l'Università degli Studi di Siena, con una tesi sperimentale sulla comprensione del si riflessivo in bambini monolingui e bilingui italiani in età prescolare.
Il suo dottorato, che rientra nel progetto europeo "Realising Leibniz's Dream: Child Languages as a Mirror of the Mind", si concentra sull'acquisizione del pronome indefinito nessuno e delle particelle focali negative persino…non, neppure, nemmeno e neanche. Nello specifico, esamina l'impatto della negazione esplicita sulla comprensione e produzione di queste particelle in bambini monolingui italiani di età prescolare e scolare.