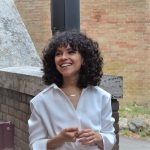 Letizia Raminelli is a PhD student in "Psychology, Linguistics and Cognitive Neuroscience" at the University of Milano-Bicocca, supervised by Prof. Maria Teresa Guasti.
Letizia graduated in "Language and Mind: Linguistics and Cognitive Studies" at the University of Siena with a thesis project on the comprehension of reflexive si in monolingual and bilingual Italian-speaking preschoolers.
Her PhD falls within the European project "Realising Leibniz's Dream: Child Languages as a Mirror of the Mind", which investigates the relationship between language development and thought structures.