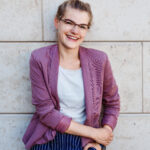 Maren Eikerling is an Early Stage Researcher in the MultiMind network, working at the IRCCS Medea/Ass. La Nostra Famiglia in Bosisio Parini (LC), Italy with Maria Luisa Lorusso, her main supervisor. She is also a PhD student in the PhD programme Psychology, Linguistics and Cognitive Neuroscience at the university Milan-Bicocca and is co-supervised by Prof. Maria Teresa Guasti.
Before working on her project "Computerized system for the screening of reading and language disorders within bilingual children", she studied Clinical Linguistics at Bielefeld University (Germany) and worked as a speech and language pathologist. There, she gained practical experience in the treatment of mono- and bilingual children with DLD (Developmental language disorder) and dyslexia.
The aim of the project is to create and validate screenings in various languages for reading and language disorders for bilingual children, so that both of their languages spoken can be tested.  This is done using the screening platform MuLiMi, that was created within the project through a collaboration with the Politecnico Milan. She studies the potential of computerized screenings that allow for automatic administration of items in any language and automatic analyses of children's responses to disentangle language and readings disorders from variation in bilingual language acquisition.