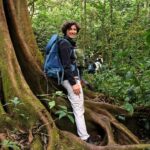 Marta Ferrari is a doctoral student in Psychology, Linguistics and Cognitive Neuroscience, under
the supervision of Professor Maria Teresa Guasti.
After interning at the Max Planck Institute of Evolutionary Anthropology in Leipzig, she graduated
in Philosophical Sciences from the University of Milan, with a thesis on syntactic and recursive
abilities in nonhuman animals. Subsequently, she earned a second master's degree in Modern
Humanities, with a thesis on linguistic, neurobiological and psychological aspects of bilingualism.
Her doctoral research is within the ERC project "Realizing Leibniz's dream: child languages as a
mirror of the mind".