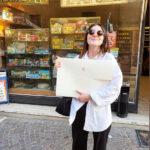 Silvia Curti is a PhD student in Psychology, Linguistics and Cognitive Neuroscience, under the supervision of Prof. Maria Teresa Guasti.
She graduated in Linguistics at the University of Padua, with an experimental thesis on complex word-formation in patients diagnosed with Alzheimer's Disease, supervised by Professor Emanuela Sanfelici.
Her doctoral research is part of the ERC project "Realizing Leibniz's Dream: Child Languages as a Mirror of the Mind", which aims at investigating the universal structures of thought and their differentiation in natural languages.