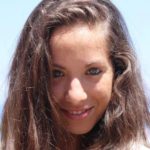 Giulia Bettelli is a PhD student in 'Psychology, Linguistics and Cognitive Neuroscience' under the supervision of Fabrizio Arosio.
Giulia graduated in 'Language and Mind: Linguistics and Cognitive studies' at the University of Siena, with an experimental thesis on bilingual children's answering strategies supervised by Adriana Belletti.
During her PhD she will study successive bilingual children with L2 Italian and, in particular, she will test the effectiveness of trainings, based on the syntactic priming paradigm, designed to help those children in the acquisition of Italian syntactic structures.