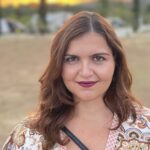 Desiré Carioti is actually the Lab Research Manager of the ERC project LeibnizDream under the supervision of Professor Maria Teresa Guasti. Desiré also collaborates with the University of Urbino Carlo Bo and Politecnico of Milan for the realization of computerized Language-independent tools for the neuropsychological evaluation of learning skills in mono and bilingual children.
After a fellowship at the University of Milano-Bicocca in her earliest career, in which she collected data for a project about music learning and cognitive skills of preadolescents, she took her Ph.D. at the Univerisity of Urbino Carlo Bo, studying reading skills and dyslexia in the bilingual population.
As data analysis and validation of instruments are one of her main expertise, she taught the research methodology course for the bachelor in psychology and did several lessons for the psychometrics course at the University of Urbino.
Her main research topics concern learning skills and non-verbal cognitive abilities behind learning disorders, with a specific interest in deepening the executive functions role. Moreover, her work is addressed to better understand the relationship between auditory elaboration, rhythmic and metrical skills, and phonological processing in typical and clinical samples. From 2018 to 2020 she did clinical evaluations as a neuropsychologist at the Center of Clinical Neuropsychology of Pesaro.